Are you a Team Captain and new to Teamplay? If you're new to us at Teamplay, welcome! We wanted to provide you with a page with your role as Team Captain, and other information to help you navigate through a few things easier.
---
Before the start of the game / season:
Register your team online via your account with the entire roster prior to the registration deadline to secure a spot. Ensure all players on your roster accept the online waiver before taking the field of play.

All of your players must be added to the roster before the start of week #1, and they must accept the waiver before playing. 

Bring all necessary equipment with you to each game (ie. loaned equipment).
Make sure your team has read and understands Teamplay Sports' rules before the start of the first game. Continually hold your team accountable for their own actions and ensure they are playing fair per Teamplay rules with a fun-first attitude. 
Be the point person and main contact for your team so that other teams captain can contact you. Notify your teammates with important league announcements.
Contact your opponent well in advance if you're team is unable to field and team and has to forfeit. Any team that forfeits more than once in a season may be asked to leave the league.
For the few leagues where Captains are court or field superiors - always bring the most current printed permit with you. Bring all necessary equipment (game balls, pylons etc) with you or appoint an alternate to bring and setup as required. 
Ensure you and your team adhere to all Teamplay Sports' policies and sport-specific rules at all times.
Discuss any issues with other Team's Captain prior to, during or after games played to resolve any issues from continuing.
Keep score of each game. Verify opponents score is the same as yours before leaving field / court.
Eject a player from a game who does not adhere to Teamplay's "Fair Play" rule (see League-wide Rules & Policies).
Confirm with your opponent the agreed upon final score. 
Report scores online within 24 hours of the game end via logging into your account (see instructions at bottom of page). If your opponent has already reported the scores, confirm they are correct, as accidents can happen.
Report objectionable conduct or any issues to the League Manager at play@teamplay.ca.
After your final game of the season:
Make sure all missing scores have been reported 24 hours after your final regular season game. 
At the end of your final playoff game: If you have loaned equipment, ensure all loaned equipment is returned to the league in good condition. If in the event you are unable to attend the final game to give back your loaned equipment - it's up to to you the Captain to notify the league and setup drop-off with the league. Enure all equipment is provided to the field / court supervisor or the Field Manager. 
Provide us any feedback on your experience with playing in our leagues to play@teamplay.ca.
---
Sport-specific Rules & League-wide Rules
Remember to read and familiarize yourself with your sport-specific rules (ie. Soccer, Volleyball, etc, etc), and league-wide rules and league-wide policies. All Teamplay rules must be abided by, and since our leagues are self officiated, it is the responsibility of each and every players to play fair and make their own calls per Teamplay rules. The Captain must keep all of their Team Players accountable and enusre they are following Teamplay League Rules & Policies.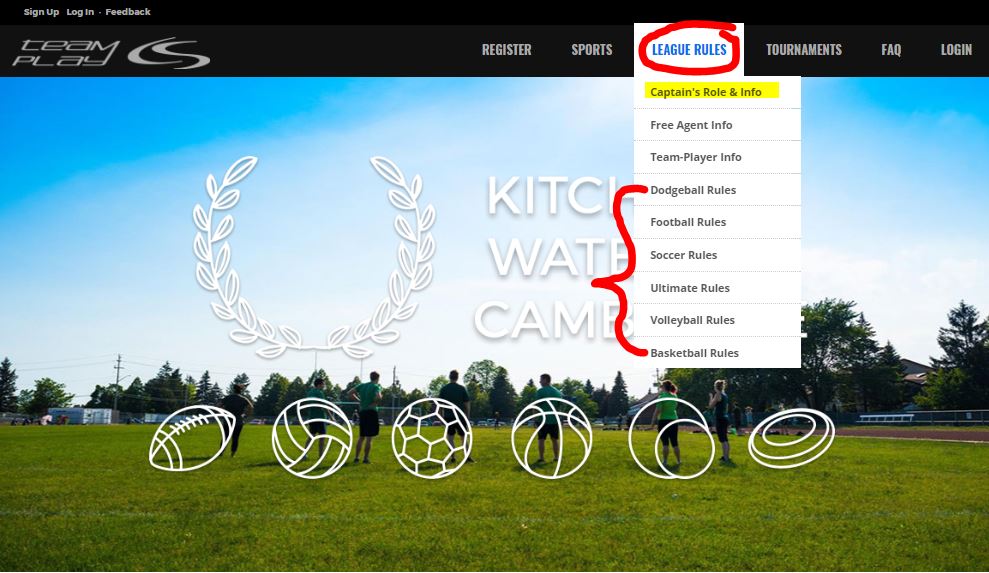 ---
How to Add Players to your Roster:
Login to your account http://www.teamplay.ca/login
On the dashboard page, click "Add 

Click on Add players:

---
How your Team Players can accept their Online Waiver...
First, they must be added to your team roster. They must then login into their account. Once logged in, they should look for the "Alerts" notice on their dashboard page, like the example below. All players must accept the online waiver before taking the field of play.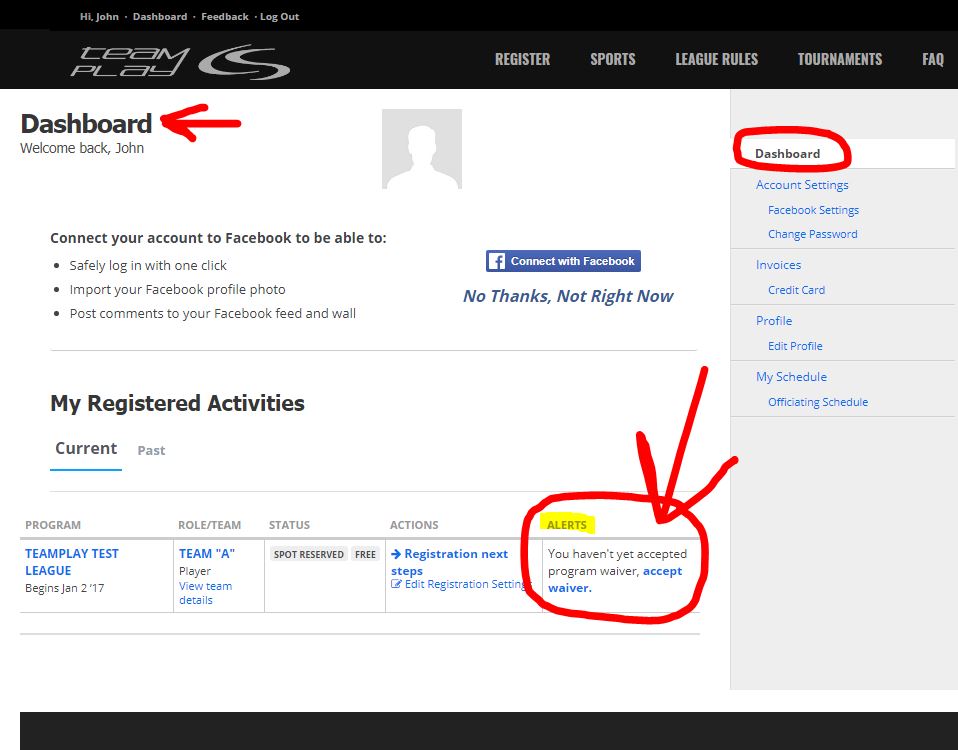 ---
How to Change your team's name...

Follow these 3 steps in the example below, after you login into your account: http://www.teamplay.ca/login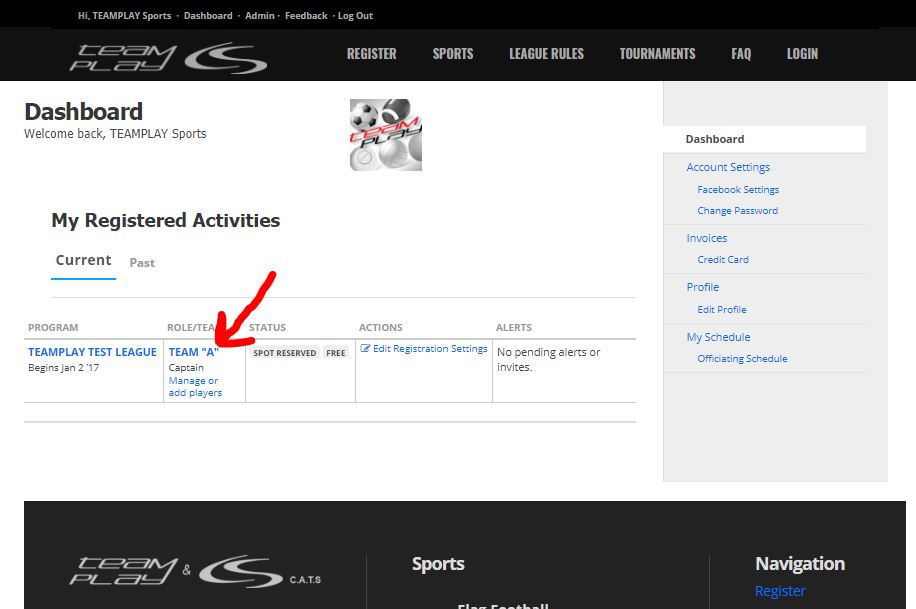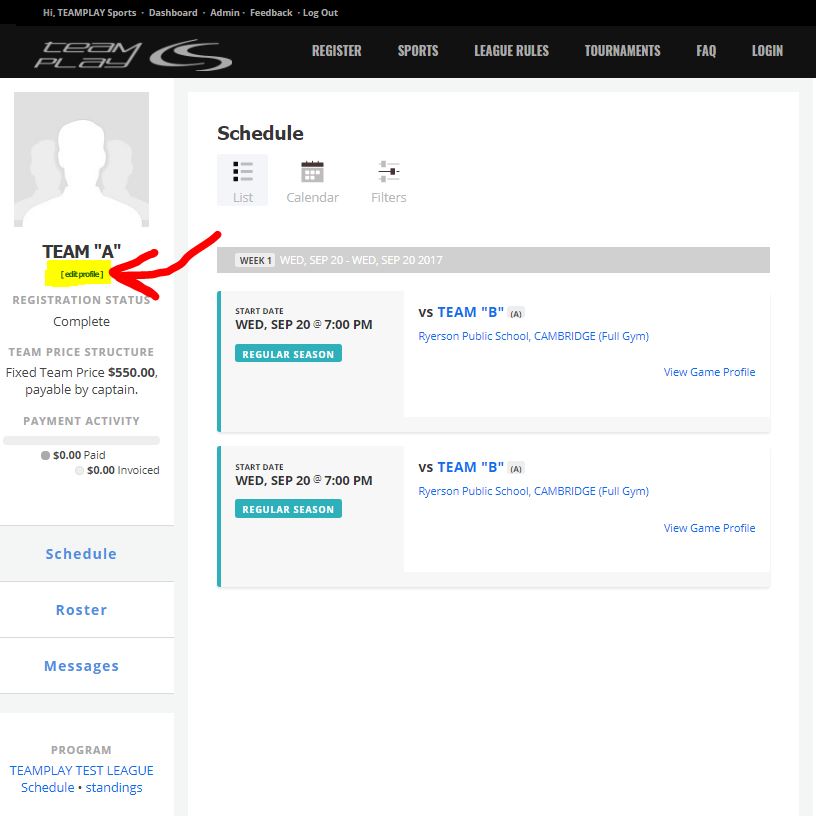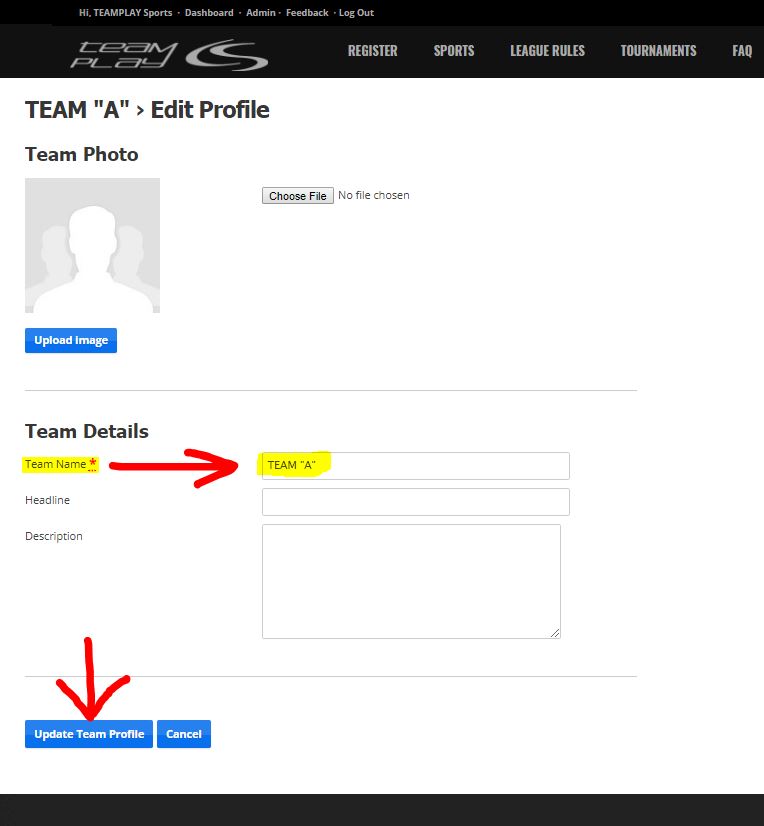 ---
Is your team going to miss a game and forfeit? Captains - you must inform your Opponent ASAP!
A team that knowingly is going to forfeit must message the opposing captain  (via our site login > Dashboard > Go to your League Profile Page > click on "Teams" on the right menu > find your opponent and click "Message Captain")  well in advance to provide them notice as a courtesy. The league cannot message your opponent, so it is up to you the captain to notify them. 





Captains, you must submit your scores after every game. Playoff seeding is based on standings that you submit, so if you don't submit them, we go off of the standings heading into the playoff week -- please continue to make sure these are correct and up-to-date.
IF in the event your opponent has already reported the scores, but you believe it is incorrect, you can choose to "dispute the results" online, or simply email us but please reference the correct Sport / Date / Time / Opoonent / And your team name.

6 easy steps on how to submit them:
1) Please login into your TEAMPLAY account via http://www.teamplay.ca/pages/login
2) Click on the Dashboard page.
3) Click on the league name like below example: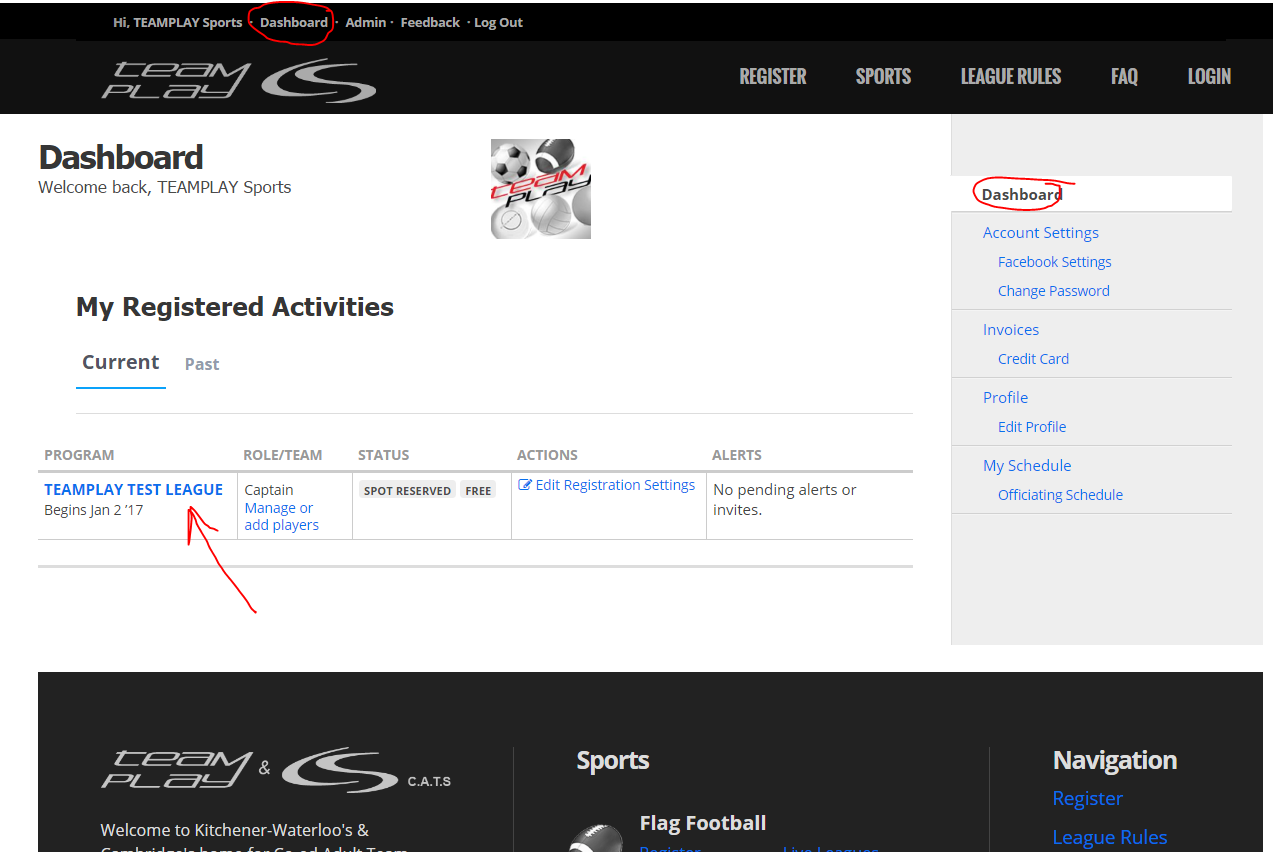 4. Click on Schedule: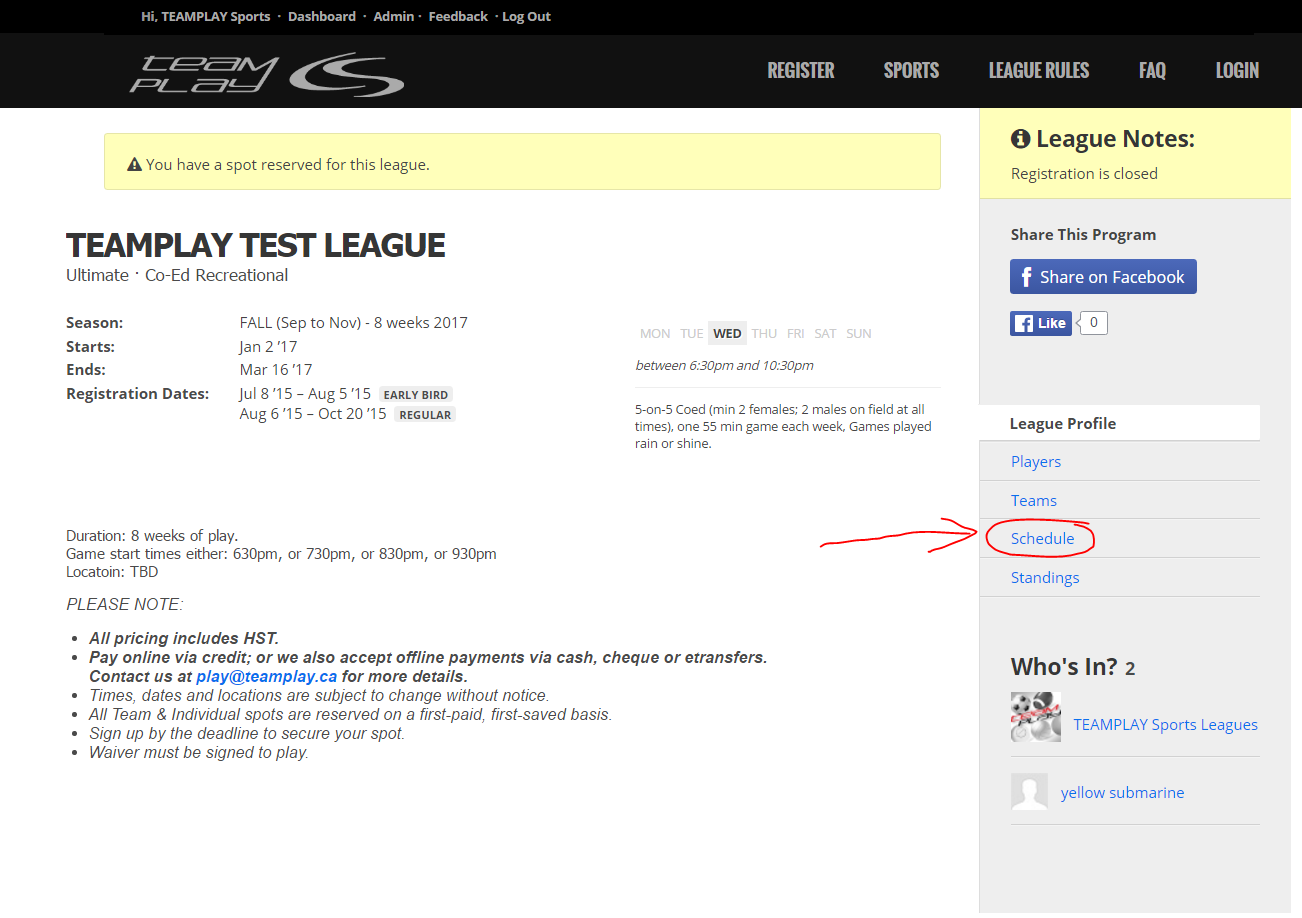 5) Click on your team name, when on the "Schedule" page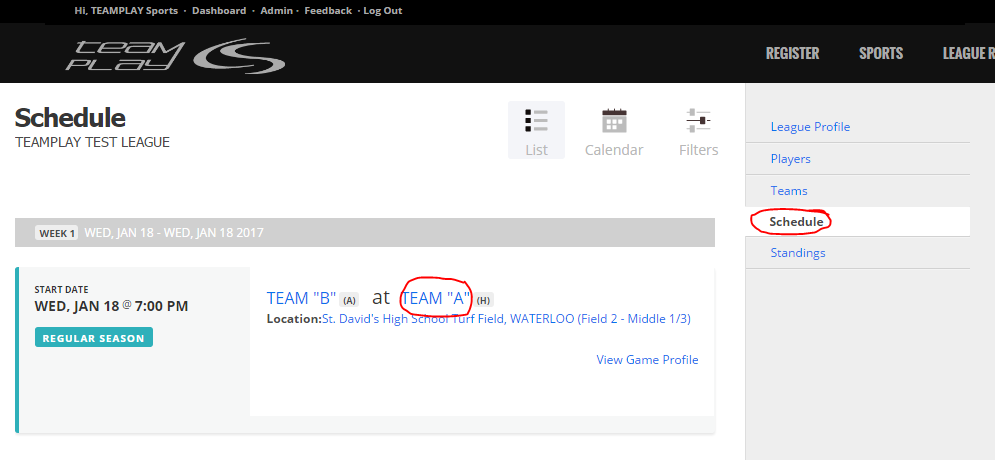 6) Click on "Record Score" to fill in the missing weeks, input the score (make sure it is correct) + SAVE.